Shop name

Tokyo Asakusa Kimono Rental YAE
Business hour

9:30-17:30 (No Regular holiday)
Address

Quatre Chic 6th Floor 1-16-2 Asakusa Taito-ku Tokyo Japan 111-0032
Telephone number

03-6886-4256
3 minutes walk from Asakusa subway station
2 minites walk from Sensoji Temple, Kaminarimon Gate.
Metropolitan Asakusa Line/Exit No A4 : Approximately 3 minutes on foot
Tokyo Metro Ginza Line/ Exit No.1 : Approximately 3 minutes on foot
Tsukuba Express/ Exit No, Kokusai [A]: Approximately 5 minutes on foot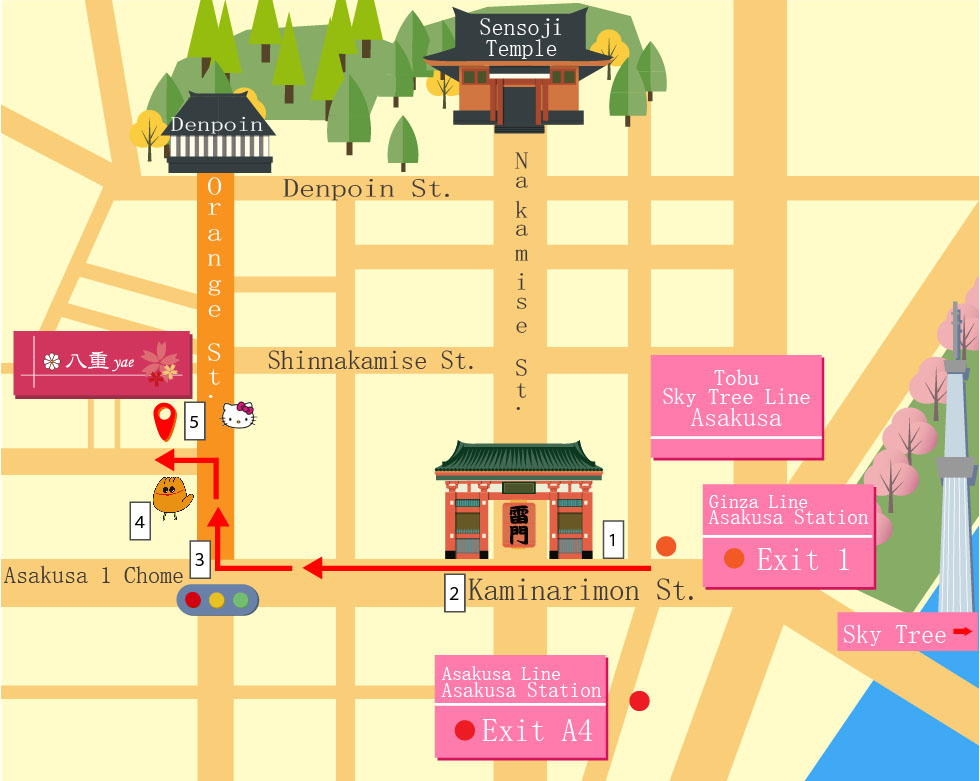 1

With Kaminarimon on your right, go straight forward.

2

Go straight for 100 m in the Kaminarimon Street Arcade

3

Turn right at the first traffic lights, to the ''Orange ST.''

4

find the ''Orante house''

5

Turn left at the intersection of Orante house.

6

About 15 m ahead, go to the 6th floor of the building on the right.
〒111-0032 東京都台東区浅草1丁目16-2 Quatre Chic 6階