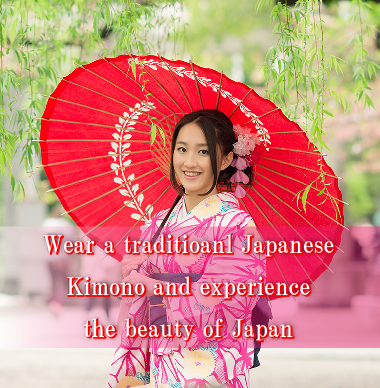 Wouldn't you like to try on a
Japanese traditional kimono in Asakusa in Tokyo?
Our professional bridal staff will help you put on the kimono and will style your hair
You need not bring anything. We have available everything that you might need to rent. There are no additional options.
Get your Kimono experience with our professional photography and rickshaw services!!(๑˃̵ᴗ˂̵๑)

Our professional photographers can give you the greatest souvenir of all--high quality pictures taken of you around Sensoji temple. Please let us know in your reservation If you would like to have professional pictures taken.

<There is a slight possibility that photographers may not be available if you make your reservation on that day before, or the day of your visit to our store.>

| Length of Photoshoot | Price | Number of Photos | Note |
| --- | --- | --- | --- |
| 30 minutes | 11,000 yen | 9 photos | up to 2 people 【Retouching: Color tone adjustment only】 |
| 60 minutes | 22,000 yen | 12 photos | up to 3 people 【Retouching: Details retouching】 |
| 90 minutes | 33,000 yen | 18 photos | up to 5 people 【Retouching: Details retouching】 |

| | |
| --- | --- |
| | The rickshaw driver will come pick you up at our shop, and take you around all the famous spots in Asakusa, while taking pictures for you from a smartphone. Please let us know at time of arrival if you would like to enjoy a rickshaw tour. |

Rickshaw Price

| | |
| --- | --- |
| 10 minutes | 3,000 yen |
| 20 minutes | 5,000 yen |
| 30 minutes | 7,000 yen |

Maximum of two adults in one rickshaw